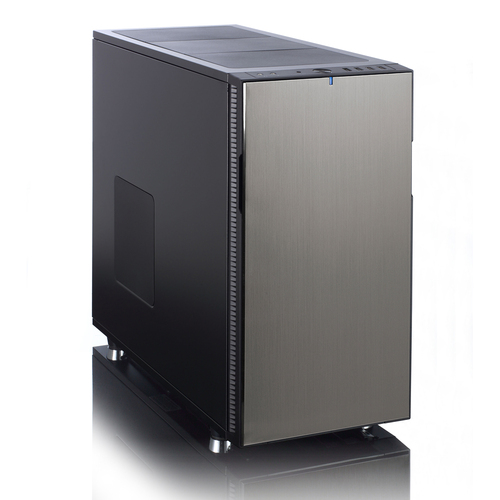 Fractal Design's Define R5 chassis is a generational upgrade to their quiet case series. The look and finish of the case has been changed compared to previous versions, which is most noticeable in the design of the top panel. The front door is now reversible and easier to remove, along with other small changes all around the chassis.

The new R5 retains a flexible design layout. There is support for two 5.25-inch external bays and up to eight 2.5- or 3.5-inch internal drives. Two quiet 140mm fans are included, with room to fit up to five more. The front connections are located at the top of the case, directly above the front door, and include two each of USB 2.0 and USB 3.0 ports alongside headphone and mic plugs.

This particular version is 'Titanium' in color. Most of the exterior is black, but the front door has a dark grey, brushed metal look - along with some white accents internally (drive bays, expansion slot covers, and fan blades).

William George (Product Development) Says:
This is an update to the Define R4 that we've carried for a while. From the outside they look very similar - the most noticeable difference is the style of the top panel, but you can see a shift in aesthetics elsewhere too. Noise-wise it is similar to the R4 and the older Antec P180 / 183 series cases, but it comes with a newer and quieter generation of fans. The noise reduction comes at the cost of less airflow, though, so some hardware setups may require running the fans at higher speeds to compensate.

Jeff Stubbers (Technology Consultant Lead) Says:
This is a very nice case. It offers good cooling, several internal hard drive bays, along with built-in sound dampening material. This case is a couple inches shorter than most full towers, so if you are height restricted for your system, this may be a better option to consider.

*This case gets plenty of cooling when the front door is closed. There are vents to left and right of the door designed to allow enough air in with the front door closed, and that air still gets filtered to stop the majority of dust from getting inside the system.

Oscar Tirado (Marketing Coordinator) Says:
Fractal really outdid themselves with this chassis. It's the successor to the R4, & they made a lot of changes that really stand out & make this chassis feel complete. Personally, I think the fans are better, the bottom dust filter is now removable from the front (the bottom filter on a R4 was only accessible from the back, making it really inconvenient to remove), & the whole design overall allows for better cable management. The only downside to this case, is the quality. I feel that Fractal could've done a better job in this field. Then again this case is fairly cheap. At this price point, it blows all of its competitors out of the water.

Nick Jaynes (Production Technician) Says:
We strive to pick the best cases which we feel suit the needs of both our customers and our assembly technicians. Does it look too flashy? Can we make this look neat? Will this offer us sufficient airflow for our higher end systems? I find the Define R5 is highly customizable to allow quiet configurations without sacrificing airflow or performance. The case itself is made of steel while the front is durable plastic. The Define R5 supports up to six 140mm fans and self-contained liquid cooling units, has sound dampening material on both side panels as well as the front door. The front and bottom grills of the case are protected by a removable mesh filter which catches hair and dust. The front door, configured for a right-hand opening but easily changed for a left-hand one, hides your optical drive bays and the fan controller for a neat and discreet appearance. At the top of the case is where you will find your power and reset buttons, two USB 3.0 ports, two USB 2.0 ports, a speaker jack and a microphone jack. The case boasts some of the best hard drive cages on the market, offering durable and versatile mounting options. Fractal outdid themselves on this computer case and for the price this thing is a steal. To put it simply, this thing is pretty great.
Note: We have designed custom shipping materials for this case. Specially made foam and boxes provide superior protection during shipping! Click here for more details.
Model: Fractal Design FD-CA-DEF-R5-TI
Specifications
Color
Black Chassis, Grey Door
Material
Plastic shell, steel frame
Type/Size
Mid Tower
Maximum Motherboard Size
ATX
Case Window
No
Power Supply
None

Dimensions

Height
462 mm (18.2 in)
Width
232 mm (9.1 in)
Depth
531 mm (20.9 in)
Net Weight
11.2 kg (24.7 lbs)
Maximum CPU Cooler Height
180mm
Maximum GPU Length
310mm or 440mm with top HD cage removed
Maximum PSU Length
170mm with a bottom fan or 300mm without

Drive Bays

External 5.25 inch
2
External 3.5 inch
0
Internal 2.5 inch
2
Internal 2.5/3.5 inch
8

Front Panel Connectors

USB 2.0
2
USB 3.0
2
Firewire
0
Audio In
1
Audio Out
1
eSATA
0

Cooling System

Cooling Method
Air
Included Fans
140mm front and rear
Total Fan Mounts
120/140mm front, 3x 120/140mm top, 1x 120mm bottom
Features
Optimally designed for silent computing with high density noise-reducing material throughout the case for maximum sound absorption, while not compromising on airflow and cooling capabilities.
Newly configured front door with dual side mounting to better fit your work space
Maintaining a dust-free interior with the help of dust filters that cover front and bottom air intakes that are easy to access from the front on the case.
The HDD cage system holds up to eight 3.5" or 2.5" drives and is more adaptable than ever, allowing the user to modify the case layout according to personal preference with more places to relocate the cages
The new and innovative Quick Release System on the left side of the case provides secure mounting of the left side panel, yet grants quick and easy access to the system.
Three-speed fan controller is strategically integrated in the front panel and supports up to 3 fans.
Equipped with new tool-less ModuVent fan slot covers allowing the user to install more fans if desired or keep fan slots covered to maximize sound absorption.
Including two Fractal Design Dynamic GP14 140mm fans developed for superlative airflow while still maintaining low noise levels.