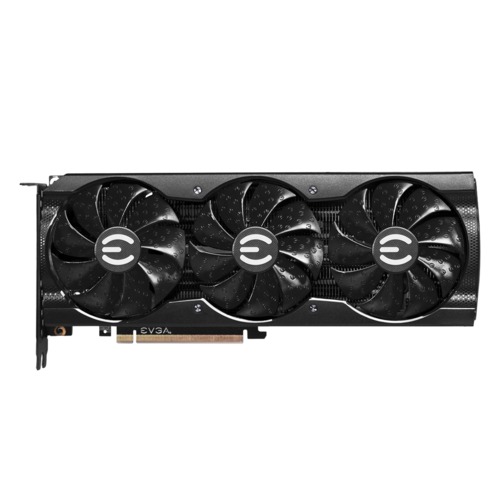 NVIDIA's GeForce RTX 3070 Ti is a consumer graphics card based on the Ampere architecture, which in turn is the second generation of NVIDIA GPUs to offer hardware raytracing and other advanced features under their RTX branding. The RTX 30-series is substantial faster than the previous 20-series, and this particular model lands midway between the RTX 3070 and 3080 in terms of 3D rendering, video editing, and game engine performance - while offering the same 8GB of onboard VRAM as the 3070.

This variant from EVGA uses a triple-fan cooling layout. It is great for keeping a single card running cool and quiet, but results in most of the heat the card generates being pumped back into the computer. That makes these a poor choice for use in multi-GPU systems. In those cases, a model with a blower-style fan and rear heat exhaust would be much better.

Finally, in regards to connectivity, this card has one HDMI 2.1 and three DisplayPort 1.4a plugs supporting a total of up to four displays at a maximum resolution of 7680x4320 (8K).
Model: EVGA 08G-P5-3785-KL
Specifications