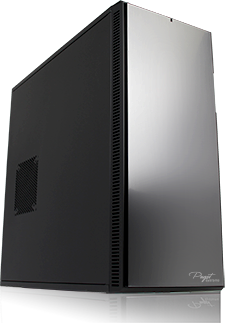 A cutting edge, highly reliable workstation
optimized for post-production and design.
Designed for even the most discerning professionals, the Puget Genesis provides both extreme performance and rock-solid stability. Using the most recent Ivy Bridge microarchitecture from Intel®, Genesis will enable you to get more work done faster.


Quiet Chassis
Our chassis options are built for quiet operation and for the use of higher-end components.
Intel® Xeon®
Multiply your productivity and possibilities with the new Intel® Xeon® processors.
Powerful Graphics
Choose from a variety of powerful graphics cards that can help aid in speeding up render times.
Software Optimized
Each Genesis can be individually optimized to your specific software and hardware needs.
Intel's latest-generation microarchitecture, is the next step in faster, multi-core technology that intelligently maximizes performance to match your workload. Parallel processing at it's finest, the Ivy Bridge-EP processors are perfectly designed to take your workstation to the next level.


The Next Level of Multi-Core Performance

Intel® microarchitecture codename Romley, offers the latest in processor innovation, including:


Dynamic scalability, managed cores, threads, cache, interfaces, and power for energy-efficient performance on-demand.


Design and performance scalability for servers, workstations, notebooks, and desktops with support for 8 cores and 16 threads with Intel® Hyper-Threading Technology (Intel® HT Technology), and scalable cache sizes, system interconnects, and integrated memory controllers.


Intelligent performance on-demand with Intel® Turbo Boost Technology taking advantage of the processor's power and thermal headroom. This enables increased performance of both multi-threaded and single-threaded workloads.


Increased performance on highly-threaded applications with Intel HT Technology, bringing high-performance applications into mainstream computing with 16 threads optimized for new generation multi-core processor architecture.


Scalable shared memory features memory distributed to each processor with integrated memory controllers and Intel QuickPath Technology high-speed point-to-point interconnects to unleash the performance of future versions of next-generation Intel® multi-core processors.


Multi-level shared cache improves performance and efficiency by reducing latency to frequently used data.
High Performance Quiet Cooling




Our closed loop liquid cooling system is an elegantly engineered thermal solution providing excelling cooling an economical price point.

In Genesis, we run a dedicated cooler loop on each CPU, providing superior flow and reliability.

The closed loop liquid cooling provides extremely efficient movement of heat outside the chassis, and yet has none of the maintenance requirements found in a traditional liquid cooling setup.

With extremely low noise and vibration, Puget Systems highly recommends this cooling solution for cooling our high powered Genesis workstations.