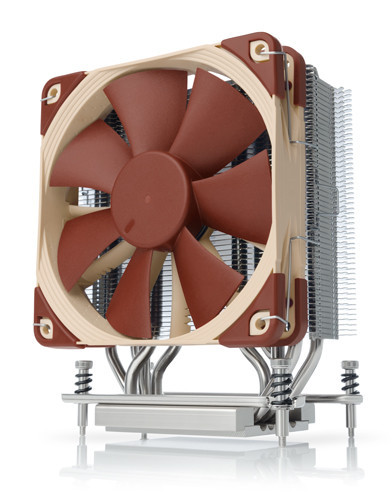 The Noctua NH-U12S TR4-SP3 is a high-end heatsink and fan cooling system for AMD's TR4 socket, which is used by the Threadripper CPU platform. The slim 45mm heatsink shape ensures compatibility with tall RAM modules, and the 120mm Noctua NF-F12 PWM fan allows for automatic speed control balance cooling with low noise operation. Held in place with a secure mounting system, the NH-U12S TR4-SP3 is a complete CPU cooling solution that combines outstanding performance, quiet operation and excellent compatibility. Due to its height, this cooler is limited to only tower cases.

William George (Product Development SME) Says:
Noctua fans and heatsinks are of the highest quality, and extremely quiet (at least the band-aid colored ones). This particular model is designed to work with AMD's Threadripper processors, and is much quieter than the close-loop coolers we've used for that platform in the past.
Model: Noctua NH-U12S TR4-SP3
Specifications
Dimensions

Length
71 mm (2.8 in)
Width
125 mm (4.9 in)
Height
158 mm (6.2 in)
Net Weight
.870 kg (1.9 lbs)

Fan Specifications

Air Flow
55 CFM
Bearing
SSO2
Fan Size
120 mm (4.7 in)
Fan Speed
1500 RPM
Life Time MTTF
>150,000 hours
Noise Level
22.4 dBa

General

Compatibility
AMD Threadripper