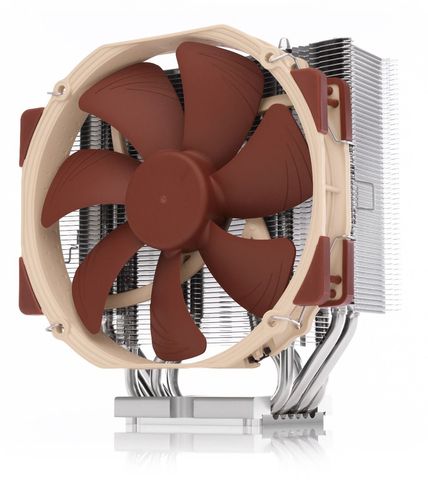 The Noctua NH-U14S DX-4677 is a high-end heatsink and fan cooling system for Intels LGA 4677 socket, which is used by their Xeon W-2400 and 3400 platforms. The slim 45mm heatsink shape ensures compatibility with tall RAM modules, and the oversize 140mm Noctua NF-A15 PWM fan allows for automatic speed control balance cooling with low noise operation. Held in place with a secure mounting system, the NH-U14S DX-4677 is a complete CPU cooling solution that combines outstanding performance, quiet operation and excellent compatibility. Due to its height, this cooler is limited to only tower cases.

William George (Product Development SME) Says:
Noctua fans and heatsinks are of the highest quality, and extremely quiet (at least the band-aid colored ones). This particular model is designed to work with Intel's Xeon W processors, and it does a great job even with the high core-count variants that generate a lot of heat. It is also very large, to the point that it will block the top PCI-Express slot on some motherboards - so if you need every last PCIe slot, consider a smaller cooler.
Model: Noctua NH-U14 DX-4677
Specifications
Dimensions

Length
111 mm (4.4 in)
Width
150 mm (5.9 in)
Height
165 mm (6.5 in)
Net Weight
1.03 kg (2.3 lbs)

Fan Specifications

Air Flow
82.5 CFM
Bearing
SSO2
Fan Size
140 mm (5.5 in)
Fan Speed
1500 RPM
Life Time MTTF
>150,000 hours
Noise Level
19.2 dBa

General

Compatibility
Intel LGA4677
Warranty
6 Years