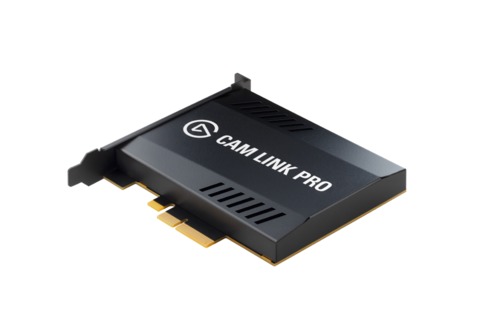 The Elgato Cam Link Pro is a 4-port HDMI capture card. Each of the four inputs functions independently, and can capture at up to 4K 30fps or 1080P 60fps. That makes this a great card for multi-camera setups in a studio or event center, but not really ideal for capturing higher frame rate sources like gaming consoles or PCs. For installation, this card needs a PCI-Express x4 (or larger) slot available - and ideally a powerful CPU and video card, especially if all four inputs are being used simultaneously. Elgato includes their own software for the Cam Link Pro, but this card also works well with popular applications like Open Broadcaster Software (OBS).

William George (Product Development SME) Says:
This is a great choice for capturing multiple HDMI camera feeds! If your cameras use SDI instead, other capture cards are available for that video standard. Some cameras also use a network connection instead, and don't require any specialized hardware in a computer (but may instead require certain features from your switch and other network infrastructure). If you aren't sure what your camera(s) need, try talking to one of our consultants.
Model: Elgato Cam Link Pro
Specifications
Card Specifications

Manufacturer
Elgato
Number of Ports
4
Port Location(s)
External
Motherboard Connection
PCI Express x4
Interface
PCI Express 2.0 x4
Form Factor
Full Height

Dimensions

Height
56 mm (2.2 in)
Width
14 mm (0.6 in)
Depth
122 mm (4.8 in)
Net Weight
0.146 kg (0.3 lbs)
Features
Supported resolutions: 2160p30, 1080p60, 1080p30, 1080i, 720p60, 576p, 480p
Independent input Resolution: Each of the four HDMI inputs functions independently - This means one HDMI input can have a 4K30 signal going into it, while a second HDMI input can have a 1080p60 signal going into it.
Non-Standard Resolution Support: Some resolutions such as 1200p (1600x1200) may not be on the official supported resolution list, yet may still be captured.
Warranty
2 Years