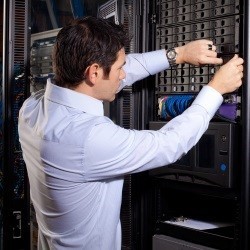 Puget Systems is proud to partner with a national network of technicians to provide onsite repair services to our government and professional customers.
This warranty includes next business day onsite service. In case of a service event, Puget Systems technical support will gather information to determine the appropriate actions and identify which parts may need service.
Please note that Next Day service events may be subject to part availability.
Puget Systems will make every effort to quickly ship replacement hardware to ensure the soonest possible onsite resolution.
For more information, click on the Tech Specs tab and view our
Onsite Repair Services
documentation.

William George (Product Development SME) Says:
Onsite service is a great option for businesses without their own IT staff, as well as individuals who depend on their computer for income. It can save a lot of time compared to sending a system in to us for repair, and also provides peace of mind for those who might not be comfortable opening up a computer for even small component replacements. If you live in the Seattle area, close to our facility, then this won't save as much time since you could just drop a computer off for service here... but it may still be worth the convenience of not having to box it up and bring it down.