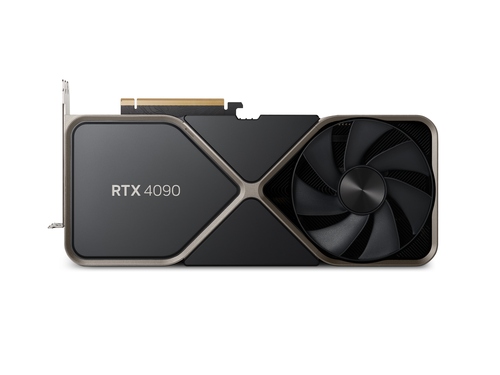 NVIDIA's GeForce RTX 4090 is the first consumer graphics card in their GeForce RTX 40-series, which is based on the Ada Lovelace architecture, and includes a host of improvements to both the number and speed of its various cores. In terms of performance, this GPU is up to twice as fast as the previous-gen RTX 3090 - but that comes at the cost of higher power draw, similar to the RTX 3090 Ti. It shares the same 24GB of memory that those cards offered as well, along with a pair of upgraded video encoders with added support for the AV1 codec. For more detailed information,
check out our RTX 4090 Content Creation Review
.
This variant, directly from NVIDIA, uses a unique dual-fan cooling layout. It is a great design for keeping a single card relatively cool and quiet, by venting some heat out the back of the computer while circulating the rest upward within the case. However, it puts off a lot of heat and is wider than traditional cards. In most cases only one will be able to fit and be cooled properly, but some larger tower cases may be able to handle two of them.
Finally, in regards to connectivity, there are one HDMI 2.1a and three DisplayPort 1.4a plugs supporting a total of up to four displays at a maximum resolution of 7680x4320 (8K).

William George (Product Development SME) Says:
This is a beast of a card, with a huge generational performance jump in several areas! Up to double rendering speeds, huge 3D and gaming increases (especially when utilizing ray tracing), and improved video encoders. It is also massive in size and draws a ton of power, but it offers roughly the same results as a pair of RTX 3090s for less money and energy usage - making it a great choice for a huge range of workloads.
Model: NVIDIA 9001G1362530000
Specifications
Chipset Manufacturer
nVidia
Product Line
GeForce
Series
RTX 4000
Model
4090
Motherboard Connection
PCI Express x16
Interface
PCI Express 4.0 x16
Maximum Digital Resolution
7680x4320
Maximum HDMI Resolution
7680x4320
Maximum DisplayPort Resolution
7680x4320
Maximum Monitors Supported
4
HDCP Compliant
Yes
Multi-GPU Technology
Not Available

GPU Specifications

Core Speed
2,230 MHz
Boost Speed
2,520 Mhz
Stream Processors
16,384

Memory Specifications

Video Memory
24GB
Memory Type
GDDR6X
Memory Bus Width
384-bit

Additional Information

Cooling System
Quiet Fan and Heatsink
DirectX Support
DirectX 12
CUDA Support
11
OpenGL Support
4.5
Removable Backplate
No
Slot Width
3

Outputs

Port 1
HDMI 2.1
Port 2
DisplayPort 1.4a
Port 3
DisplayPort 1.4a
Port 4
DisplayPort 1.4a

Power Connectors

Plug 1
8-pin PCI-E
Plug 2
8-pin PCI-E
Plug 3
8-pin PCI-E
Plug 4
8-pin PCI-E
Uses Power Adapter
Yes

Dimensions

Length
304 mm (12.0 in)
Height
137 mm (5.4 in)
Width
61 mm (2.4 in)
Net Weight
2.254 kg (5.0 lbs)
Warranty
3 Years