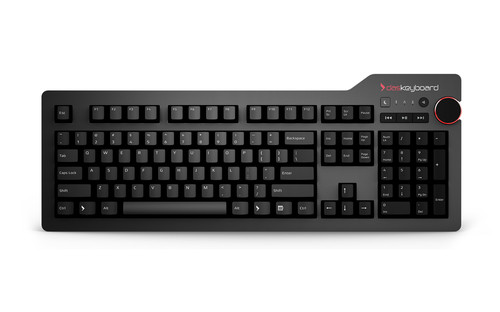 The Das Keyboard 4 Professional is a premium mechanical keyboard, with a long heritage of quality from Das Keyboard. It uses the highly-regarded Cherry MX Brown keyswitches, which offer a tactile feedback so you know exactly when the key press has been registered - without making as much noise as MX Blue switches.

In addition to the high-end switches, this keyboard also features basic media controls and a 2-port USB hub in the upper right corner.

Jeff Stubbers (Tier 3 Consulting Lead) Says:
This is an excellent quality keyboard. I have been using a Das Keyboard for a few years now and simply love it! This keyboard uses mechanical keys switches, so when you depress a key it does a much better job recognizing the keystroke than typical membrane keyboards.

John D. (Research and Development Engineer) Says:
I personally own a slight variant of this keyboard. It is extremely nicely built with a heavy aluminum top panel. The built-in media controls are handy, the volume wheel feels nice to use, and the integrated USB 3.0 hub is more convenient than I had expected. It uses genuine Cherry MX switches that are a pleasure to type on.