A computer that will transform your space into a quiet retreat.
Serene yet uncompromisingly powerful. Experience the performance. Enjoy the silence.
The Puget Serenity is an incredibly quiet computer. We have poured years of experience into this configuration to achieve the quietest high performance computer available on the market. There are many resources you can find online (and even our site) that will show you the components necessary to build a quiet computer, but it's simply not possible to build a system with the stability, reliability, performance, and silence of a Serenity without the tools that we have here at Puget Systems.
We use thermal imaging cameras to view the real time heat dispersion inside our computers and then tune the location and speed of our fans to give the best silence vs. performance levels. We custom program the fan RPM curves for optimal temperature response. We pick the most quiet of components. Then we back it up with our industry leading warranty. In the world of quiet computers, there is nothing that can top the performance and silence of the Serenity.
"Our hats are off to the Puget development team for their pursuit of excellence. Puget's SPCR-certified Serenity PC is a truly well-crafted high performance computer at the cutting edge of silent computing."

Studio
Record the artist, not your computer.
In the demanding world of today's digital recording studios, your computer needs to be more than just fast and reliable; it must be quiet. Keep ambient frequency hum out of your tracks and away from your mix.

Laboratory
Accurate measurements. Focused mind.
Scientific laboratories can be some of the most scrutinizing of environments for a computer. When taking the most precise measurements, don't let anything cloud your results. Stay accurate with low noise pollution.

Home
Relax, unwind, play, entertain. Live.
Your home is your world and you should demand the best. Don't let the whine of your computer get in the way of your games, movies or music. Enjoy real relaxation and peace.

Office
Silence and productivity go hand in hand.
The business world demands efficiency. Make sure you're ahead of the curve with a computer that's not only reliable, but keeps you focused. Make your office a quiet place to think and create.

Quiet Components
To build a quiet computer, you start with the most quiet components possible. For the Serenity, we start with a quiet chassis that includes sound dampening material on the panels. The layout is open, allowing us to route airflow with minimal fan speed and pressure. We brought in the best CPU coolers and fans in the market, and ran them through rigorous testing. The winners earned a space in the Puget Systems Serenity.

Thermal Imaging
As with every system that we build, thermal imaging is used to maximize performance and reliability. By using our thermal imaging technology, we are able to see what the computer's onboard temperature sensors can't tell us -- exactly where the hot points are and how we can address any problems before they start. Thermal imaging gives us the ability to sell incredibly quiet computers that are also proven stable and reliable.

Airflow Optimization
Taking the information gathered from our thermal imaging, we evaluate the airflow of each system and optimize the performance with fan placement and RPM control. Just adding more fans does not necessarily increase cooling or performance. Sometimes, covering an opening or changing direction of a fan is what is needed for best performance. With the tools and experience of our technicians, these decisions be made with the best possible results.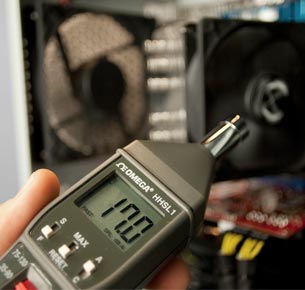 Fan Tuning
The motherboard contains a fan RPM profile that regulates the speed of the fans to the temperature sensors, but is inadequate when dealing with a PC as silent at the Serenity. We custom program the fan RPM response curve, making the fan RPM tightly tuned for the specific thermal properties of Serenity.
Why Choose Puget Systems?
Rather than getting a generic workstation, our systems are designed around your unique workflow and are optimized for the work you do every day.
By keeping inventory of our most popular parts, and maintaining a short supply line to parts we need, we are able to offer an industry leading ship time.
We make sure our representatives are as accessible as possible, by phone and email. At Puget Systems, you can actually talk to a real person!
Even when your parts warranty expires, we continue to answer your questions and even fix your computer with no labor costs.
Click here for even more reasons!