A powerful personal computer optimized for quiet operation.
A computer that will transform your space into a quiet retreat.
Serene yet uncompromisingly powerful. Experience the performance. Enjoy the silence.
---
Share:
The Puget Serenity is an incredibly quiet computer. We have poured years of experience into this configuration to achieve the most quiet high performance computer available on the market. There are many resources you can find online (and even our site) that will show you the components necessary to build a quiet computer, but it's simply not possible to build a system with the stability, reliability, performance, and silence of a Serenity without the tools that we have here at Puget Systems.
We use thermal imaging cameras to view the real time heat dispersion inside our computers and then tune the location and speed of our fans to give the best silence vs. performance levels. We custom program the fan RPM curves for optimal temperature response. We cherry pick the most quiet of components from our inventory. Then we back it up with our industry leading warranty. In the world of quiet computers, there is simply nothing (including completely passive systems) that can top the performance and silence of the Serenity.
---
Recommended Serenity Workstation Configurations
"Our hats are off to the Puget development team for their pursuit of excellence. Puget's SPCR-certified Serenity PC is a truly well-crafted high performance computer at the cutting edge of silent computing."
Decibel Levels


130dBA Gun shot
120dBA Front row at a rock concert
85dBA Earplugs should be worn
60dBA Normal conversation
40dBA A whisper
30dBA A totally quiet night in the desert
18dBA Serenity [LOAD]
15dBA The drop of a pin
13dBA A standard light bulb
12dBA Serenity [IDLE]
10dBA Threshold of hearing
Studio

Record the artist,
not your computer.
In the demanding world of today's digital recording studios, your computer needs to be more than just fast and reliable; it must be quiet. Keep ambient frequency hum out of your tracks and away from your mix.
Laboratory

Accurate measurements.
Focused mind.
Scientific laboratories can be some of the most scrutinizing of environments for a computer. When taking the most precise measurements, don't let anything cloud your results. Stay accurate with low noise pollution.
Home

Relax, unwind, play, entertain.
Live.

Your home is your world and you should demand the best. Don't let the whine of your computer get in the way of your games, movies or music. Enjoy real relaxation and peace.
Office

Silence and productivity
go hand in hand.
The business world demands efficiency. Make sure you're ahead of the curve with a computer that's not only reliable, but keeps you focused. Make your office a quiet place to think and create.

Quiet Components
To build a quiet computer, you start with the most quiet components possible. For the Serenity, we start with a quiet chassis. The Fractal Design Define R5 is extremely quiet, and includes sound dampening material on the side panels. The Silverstone SG10 is small, allowing us to route airflow with minimal fan speed and pressure. We brought in the best CPU coolers and fans in the market, and ran them through our rigorous qualification testing. The winners that met our extreme criteria earned a space in the Puget Systems Serenity.

Picked by Ear
For Serenity, we take our quest for quiet to a whole new level and actually select components by ear. We've found that even across the same model, there can be a large variation in noise level. Hard drive spindle noise, power supply fan noise and even the sound of electrical noise from the motherboard voltage regulators are evaluated by our experienced technicians. Out of all the parts in our inventory, we reserve our most quiet components for the Serenity. Cherry picking parts off the shelf is a feature that is totally unique to the Serenity SCPR Edition and you can really hear the difference!

Thermal Imaging
As with every system that we build, thermal imaging is used in the build process of the Puget Serenity to maximize performance and reliability. Passive heatsinks, slow fans and extra insulation all make for a quieter computer, but they can also reduce the cooling capacity of the PC, and must be approached carefully. By using our thermal imaging technology, we are able to see what the computer's onboard temperature sensors can't tell us -- exactly where the hot points are and how we can address any problems before they start. Thermal imaging gives us the ability to sell incredibly quiet computers that are also proven stable and reliable.

Airflow Optimization
Taking the information gathered from our thermal imaging, we evaluate the airflow of each system and optimize the performance with fan placement and RPM control. Just adding more fans does not necessarily increase cooling or performance. Sometimes, covering a hole or changing direction of a fan is what is needed for best performance. Only with the tools and experience of our technicians can these decisions be made with the best possible results.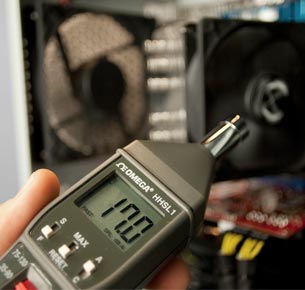 Fan Tuning
The motherboard contains a fan RPM profile that regulates the speed of the fans to the temperature sensors. While Asus QFAN technology helps quiet a system, it is inadequate when dealing with a PC as silent at the Serenity. We custom program the fan RPM response curve, making the fan RPM tightly tuned for the specific thermal properties of Serenity. We take extra care to prevent RPM cycling up and down, keeping the RPM (and sound) at a smooth, constant rate. Sometimes the annoyance qualities of sound are as important as volume!
How Our Process Works