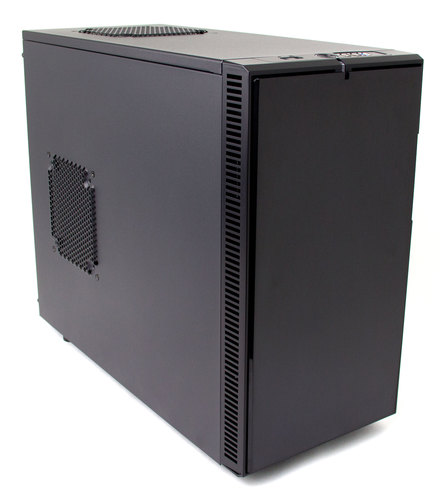 Fractal Design's Define Mini chassis is a smaller take on the popular Define series of cases. It provides a flexible design with options to house a quiet computer or a gaming powerhouse equally well, without taking up as much space as other cases. This is accomplished by using a MicroATX size motherboard and 120mm fans. It comes with two such fans, but can fit up to six in total; there is also room to mount six hard drives. The front connections are located at the top of the case, directly above the front door, and include two USB 2.0 and one USB 3.0 ports alongside headphone and mic plugs.

The front door on this version is 'Titanium Grey' in color.

Jeff Stubbers (Technology Consultant Lead) Says:
This is a very nice smaller case which is a nice fit for a MicroATX motherboard. It offers good cooling, several internal hard drive bays, along with built-in sound dampening material. This case is a few inches shorter than most full towers, so if you are height restricted for your system, this may be a nice option to consider. A downside to this case is that it has no 3.5" external bays, and just two 5.25" (DVD) bays. So if you would like to use a 3.5" device, it will need to be placed in one of the two 5.25" bays, leaving just one 5.25" bay for a single optical drive.

*This case gets plenty of cooling when the front door is closed. There are vents to left and right of the door designed to allow enough air in with the front door closed, and that air still gets filtered to stop the majority of dust from getting inside the system.

John D. (Research and Development Engineer) Says:
The Define Mini is the little brother to Fractal's Define R4, and it really does look like a scaled-down version of the ATX chassis. The smaller size does result in a few small sacrifices. While there are optional mounts for 140mm fans in the top or side of the case, the front and rear positions will only take 120mm fans. The reset switch is located behind the front door rather than up top with the power button and front ports, and there's no front panel fan speed controller. With that in mind, this is still a very nice mATX case. It feels solid and looks nice, and the interior layout is good for cooling, so a fan controller really isn't necessary. This is a great option if you're looking to save a little space.

Josh Raye (Research and Development Engineer SME) Says:
Choosing a computer case is an important part of the system building process. You need adequate airflow for your components, the space to fit everything inside, and it needs to look good while feeling sturdy. If the case looks crude and feels cheap, it changes your perspective of quality for the entire machine. Fortunately, this case does pretty well in all of those aspects. There's multiple fan configuration options available, it has healthy potential for expandability -- above average for an mATX chassis, and it feel like a solidly constructed case. The only gripe I have is that the front fan filters require a screwdriver to remove; that turns a simple chore into somewhat of an inconvenience. That being said, this is still a fine case that deserves to be looked at as an option.
Note: We have designed custom shipping materials for this case. Specially made foam and boxes provide superior protection during shipping! Click here for more details.
Model: Fractal Design FD-CA-DEF-MINI-BL
Specifications
Color
Black
Material
Plastic shell, steel frame
Type/Size
Micro Tower
Maximum Motherboard Size
MicroATX
Case Window
Yes
Power Supply
None

Dimensions

Height
395 mm (15.6 in)
Width
210 mm (8.3 in)
Depth
490 mm (19.3 in)
Net Weight
9.5 kg (20.9 lbs)
Maximum CPU Cooler Height
160mm
Maximum GPU Length
260mm (400 with HD cage removed)
Maximum PSU Length
220mm (170mm with bottom fan installed)

Drive Bays

External 5.25 inch
2
External 3.5 inch
0
Internal 2.5/3.5 inch
6

Front Panel Connectors

USB 2.0
2
USB 3.0
1
Firewire
0
Audio In
1
Audio Out
1
eSATA
0

Cooling System

Cooling Method
Air
Included Fans
120mm front and rear
Total Fan Mounts
120mm front, 120/140mm top, 1x 120mm bottom, 1x 120/140mm side
Features
Patent pending ModuVent design, allowing the user to either have optimal silence or optimal airflow
Pre-fitted with dense, noise absorbing material
Fan controller for 3 fans included
USB3 support in the front panel
Supports graphic cards with lengths up to circa 400mm when upper HDD bay is removed