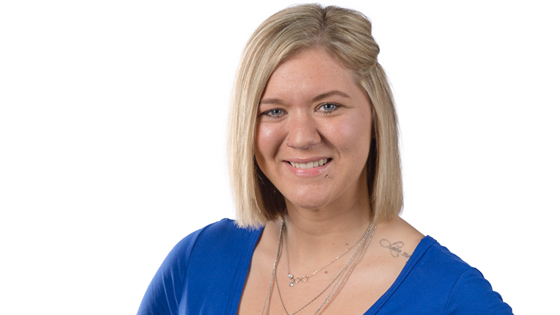 Alicia Menson
administrative assistant
THEN: - before Puget -
My first taste of administrative work was at a playground installation company, where I worked my way up from an "errand runner" to the owner's assistant to the office manager. I then went on to being a CNA at local senior adult family home, on to becoming the assistant manager of the facility. Although I loved the people I worked with and the residents I cared for, I missed being in a fast-paced office setting. Since I have worked in customer service in all my positions, I have had the opportunity to work with all types of people from different backgrounds.

NOW: - here at Puget -
I started at Puget Systems in September 2015, and was hired as the administrative assistant.

MY FIRST COMPUTER:
The first computer I ever owned, and called mine, was a Dell laptop that I got as a graduation gift in 2004.

MY DREAM COMPUTER:
I don't have a dream computer. I just want one that allows me to accomplish what I need. And, I guess I wouldn't want a super slow computer either.

RECOMMENDED SOFTWARE/GAME(S):
Since I have a background in office/admin work; the software I use(d) the most is Microsoft programs, QuickBooks and Outlook.

LIFE: - outside Puget's walls -
I try to get out and enjoy the beautiful Northwest and all it has to offer as much as I can. My two daughters and I love to hike, explore and experience the outdoors, as well as do crafts and DIY projects. We also are avid Seahawks fans! If we are not at a game, we are definitely having a party at our house! I also love to stay active and eat healthy. It's been difficult to transition my kids into eating clean, unprocessed foods, but they are supporting and willing to try/live this way too.
HOMETOWN:
Enumclaw, WA